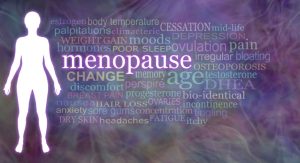 Menopause – a time of life every woman goes through with varying degrees of symptoms. It used to be an almost shameful time of a woman's life, not being openly discussed except for the jokes about hot flushes. Luckily it is now gradually being encouraged to talk about symptoms we may be experiencing and the realisation that we are not alone in suffering the huge array of symptoms that can be caused by this change in our hormone levels.This decline and change in the hormones in our bodies produce a wide variety of symptoms such as:
Changes in body shape
Trouble sleeping
Brain fog
Joint aches and pains especially frozen shoulder
Hot flushes
Urinary problems
Vaginal dryness
Low mood
Osteoporosis
Most women spend more than a third of their lives post-menopausally so it is imperative that this previously hidden stage of transition is discussed more and the associated problems addressed. Women's health in general has historically been poorly researched and addressed in Western Medicine.  A change in perception in Western culture may also help -instead of seeing it as a loss of youth it should be embraced as a time of freedom and a new stage of life with new opportunities. The wisdom we have gained more than makes up for our amazing changing bodies! Nevertheless it is important to look after ourselves as we age and a good diet is at the heart of this. It is therefore really important to eat a wide variety of wholefoods which are a great source of   phytoestrogen  which may help with many symptoms of the menopause.
These include the following:
Soya bean products eg. tofu,tempeh,miso
Nuts and seeds – flaxseeds, sunflower, sesame, almonds, walnuts
Vegetables- yams, lentils, alfalfa sprouts, beans
Grains -oats, barley, wheat germ
Researchers at King's College, London have recently published research on diet and menopause(https://www.kcl.ac.uk/news/adjusting-diet-can-help-women-through-menopause), concluding that:
"Small diet and lifestyle changes have the potential to make a big difference to how women manage their symptoms and improve this transition."
Whilst HRT undoubtedly has helped many women, not everyone wants or can go down that route. For example women who have undergone breast cancer surgery will not usually be prescribed HRT.  Acupuncture is becoming more and more recognised as an alternative to HRT within the NHS
 and is increasingly being used to treat the symptoms and underlying causes of these symptoms. https://bmjopen.bmj.com/content/9/1/e023637?fbclid=IwAR3N1aamXHU7JYx36JwKGyfEGjUpJNuVuGq4s954X4hu1jlzcqcGOVeFQSI
Women's health is a particular interest of mine after spending many years working in the Breast Unit at the Countess of Chester Hospital as a mammographer and talking to thousands of inspirational women.
If you are interested in trying a different approach to managing this stage of your life please get in contact for a no obligation chat to see how acupuncture and life style changes may help you. In Traditional Chinese Medicine(TCM) menopause symptoms can develop from a number of underlying patterns. During the consulatation I  will ask you many health related questions to establish which patterns you have and  will then tailor the treatment appropriately – we are not all the same and TCM acknowledges this!